Description
Ballcraps lets you easily bet with your friends on any play during a game.
History
Early history
Like many great ideas, Ballcraps was conceived at a bar. While watching the BCS Championship game, the guys had a few friendly arguments about the outcome of each drive. The bookmaking needed to be fast so we arrived at an incomprehensible shorthand. There just had to be a better way to track these fast-paced bets. So we drew up the most common bets on a dry-erase surface and used poker chips to track our bets. After several sessions, we set up the board you see today.
Building the Home Set
We designed a home set that anyone could buy and play at home with their friends. The Ballcraps board was screen-printed on felt, standard poker chips were used for betting chips, and light plastic chips for odds markers. Everything is assembled in a clear plastic tube for storage and shipping. The home set was sold first on Kickstarter at the beginning of the 2011 football season, and has since been available for purchase on etsy.
Images
download all screenshots & photos as .zip (10MB)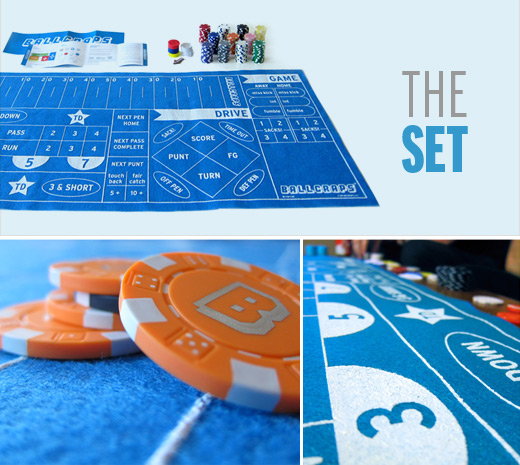 There are far more images available for Ballcraps, but these are the ones we felt would be most useful to you. If you have specific requests, please do contact us!
Logo & Icon
There are currently no logos or icons available for Ballcraps. Check back later for more or contact us for specific requests!
Selected Articles
Additional Links
Buy Ballcraps on Etsy
You can buy the home set on etsy: etsy.com.
Team & Repeating
Collaborators
Lily Alayeva
Graphic Designer
Robert Allison
Operations
Joe Kimmel
Research and Game Development
Micah Nickerson
Production
Dami Omojola
Application Development
Apu Shah
Application Development
Matty Ulrich
Application Development and Architecture
Contact
presskit() by Rami Ismail (Vlambeer) - also thanks to these fine folks