LED Edge-Lit Table
For the man who has everything
but glowing gaming furniture
Do you need a new classy table in front of your big flat-screen or at your sports bar?
Put an order in for your custom built LED edge-lit Ballcraps table!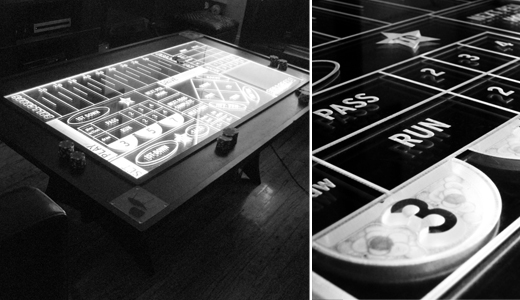 Features
CNC-routed plexiglass Ballcraps board
LED edge-lit
Built-in drink and chip rails
Detachable base for different heights (sitting or standing)
Flat-pack pieces for easy transport
Designed and made in America!
How it's made
It was conceived by the Ballcraps team, and the prototype was built in Brooklyn by a local woodworking shop.
Tabletop
The tabletop is made of two plexiglass sheets: The bottom sheet is CNC-etched with the table design, while the top sheet serves as a clear protective cover (removable for easy cleaning of spilled beverages). The tabletop is fully lit along the bottom edge by a single strip of white recessed LEDs.
The Table
The table was designed to be entirely fabricated on a CNC machine, with only wiring and finishing operations required for production. The tabletop housing is built of a single CNC-machined MDF sheet. The table frame and legs are also simple CNC-machined MDF boards and are detachable for easy flat-pack shipping.
The CNC tech
The CNC machine (computer numerical control) is a computer-controlled routing machine. We used AutoCAD to create stereolithography files of the design and used ReplicatorG to produce the G-code instructions that the CNC machine reads for toolhead paths. (The paths are the "plan" for where to cut, similar to an etch-a-sketch.)